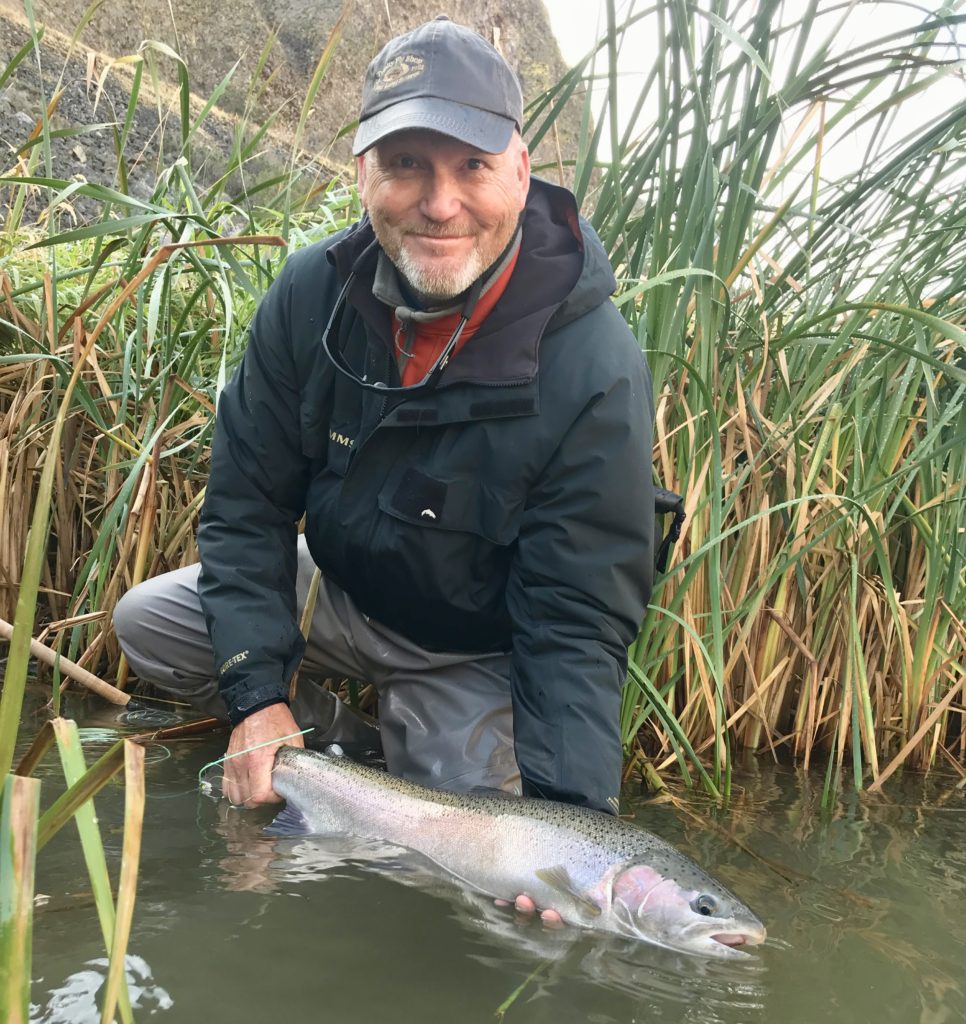 September 19, 2019 Deschutes Fly-Fishing Report. River clarity continues to be poor on the Deschutes. Between the White River and the late summer storms we've had a good deal of color in the river. Between then and now we has some good dry line steel heading but it's been a tip show for the most part. We managed to hook 46 fish in the last ten days with three groups of two camping at Wagonblast, not great numbers by any means but fishing has been good enough. We're starting to get snow up on the mountain and clearer water is on the way. We've started swinging up some chinook as well. B-runs are on the way and October should be a strong month based on what I'm seeing with late fish counts. Tight lines, report again in another two weeks. We have some open dates in October. SS
September 5, 2019 Deschutes Fly-Fishing Report. Lot's of talk about the White River, off color water, even the river being blown out…that's horse shit! The lower end of the Deschutes has been unusually clear since the 2015 draught but prior to that the Deschutes ran off color most of the summer. This is normal, once the snow is gone the glacier on the White melts, it's dirty, it's white, it colors the Deschutes, it's part of the program so to speak. The river has been cycling from 12-24″ inches of river clarity for two weeks now. Dirty in the morning, clear in the afternoon, fishing has been best in the morning when clarity is the poorest. Fishing has been good, it usually is this time of year. Good fishing to me means we are catching some fish, some days several, some days a chance or two.
I don't fish floating lines on the Deschutes when the White River is cycling. That doesn't mean you couldn't catch one on a floating line it just means I don't mind fishing right behind you if you do. My attitude got this way a number of years ago after opening four days straight in the tailout of Wagonblast. Four days in a row I can't get a grab. Day four I decide to fish sink tips behind myself…we got four. That was in 2015, the draught year, the year the White cycled two months straight, the river was empty. We caught a lot of fish that year, a lot.
When the river is cycling fish dark flies on your sink tips mornings and evenings. When the sun is up fish bright flashy flies. Slow down the swing, it's OK to fish a fly sideways only if it's moving slow, the slower the better. Move slower, fish can see better than we can in dirty water but they won't move far, try not stepping past them. For now, better to fish a run once slow than twice fast. Don't wade deep or you will be robbed of a swung fish and will receive a strip fish instead. Do not pay attention to the local reports, go to the river and see for yourself but remember it is cycling, clarity improves late in the morning and into the afternoon but that hasn't seemed to matter.
Like I said originally, fishing has been pretty good, it usually is this time of year. I will be camping the next opening Monday through the following Wednesday. My next open dates are October 8, 11, 14, 17, 18. My rates are $300 per seat, I take three. If you would like to fish as a twosome my rate is $695. You can reach me by text (541) 400-0855.
Tight lines, Sam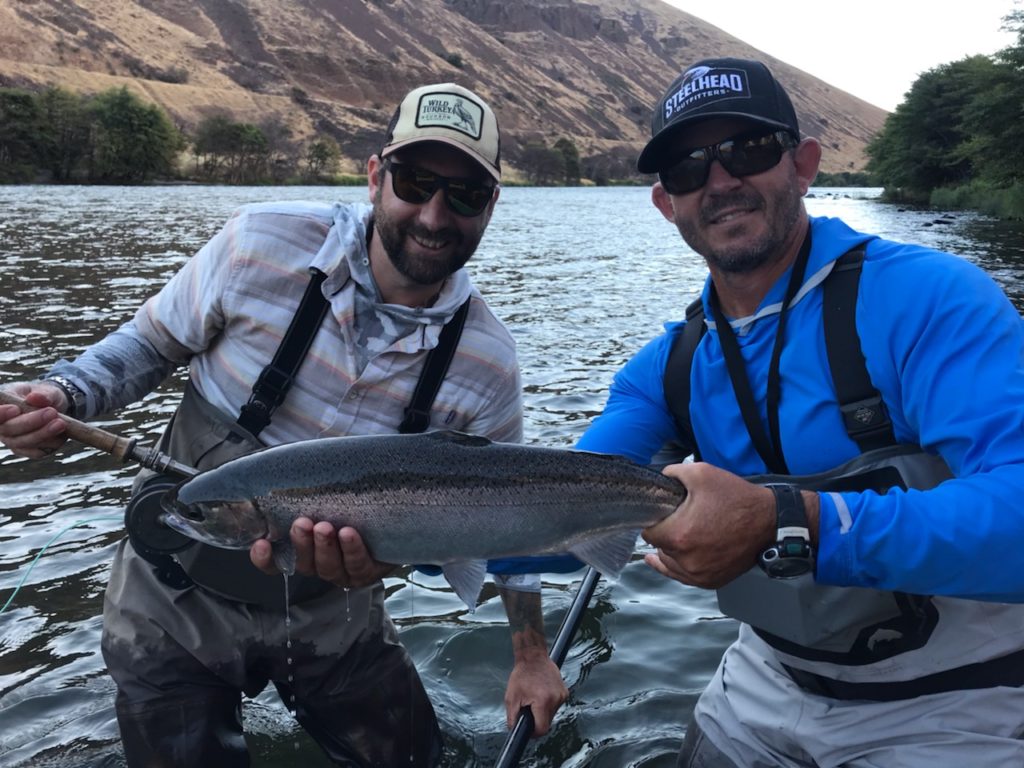 August 8th, 2019 – Non Motorized weekend number three, that means I'm thirty days in. We are now finding a fish or two each day and working really hard to do it. The crowds are thick and the annual post up campers have arrived taking prime camps for days, me included. Our first camp was set for seven days and we stayed at Henry's and for three days we had two sleds, 1-2 fish per day mornings and evenings. The eastside fished a little better than the west and we picked up a few upriver but it was real busy up there. In all honesty this is going to be 2019 but hey it's still the best summer steelhead fishery in the United States, and steelhead are still the best fish to pursue. We are catching fish on floating lines and sink tips, skater flies haven't been working well and it's been easy to pick our own pockets. The weather has been cool and windy, we did have two days over 100 and the river heated right up to 70. I'll keep reporting after each closure. Stay tuned. I'm currently booked into week two of October but please hit me up if you're looking for a fall date!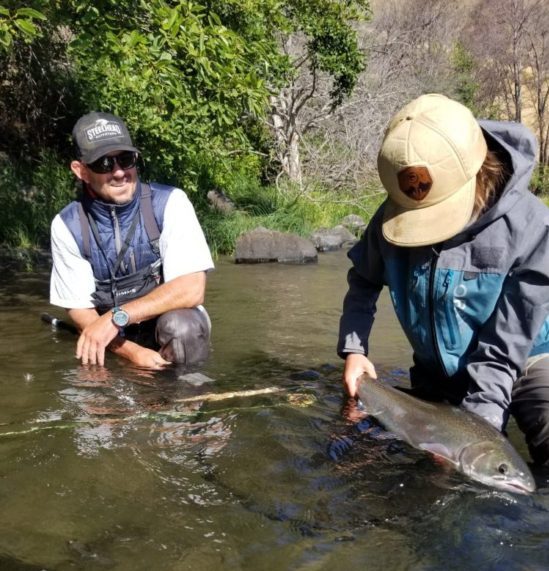 July 28, 2019 -Non-motorized weekend number two. The crowds have officially arrived, the fishing is slow compared to prior July. We are averaging a fish or two every other day. The fish are spread out throughout the lower 24 miles in thin numbers and there seems to be no real concentration of steelhead anywhere. The numbers of fish will increase as we merge into Augst and the busiest part of the season. The river has grown back but most of the camps are in poor condition do yo the high water late winter and overgrown noxious weeds. This July has been seasonably cool and very very windy. Water temps have stayed down under the 70 mark almost every day.
July 11, 2019 – Just Like that! We're off and running. Today marks my first non-motorized weekend break on the Deschutes River. I started running Steelhead Trips on July 6th, and I've seen fish caught every day, not a lot but they are in fact here!
I've had the pleasure of fishing some brave souls the last few days and some of them have been rewarded for their bravery. We've got four fish so far all in different spots, two on floating lines, two on sink tips. Some folks are concerned about the poor forecast and all the negative press and that's great! I hope they don't come fishing this year, no one likes the crowds good fishing reports and forecast bring. I expect this season to mirror the 2018 season as far as fish passage over Bonneville goes. In 2018 we stuck 200 steelhead. I'm good with that number.
summer 2019 is booked, we are booking October
October availability is good! This season we are selling single seats $300 per angler. I will take up to three anglers most days and can accommodate groups as large as four. Angler groups of two can secure the boat for $695.