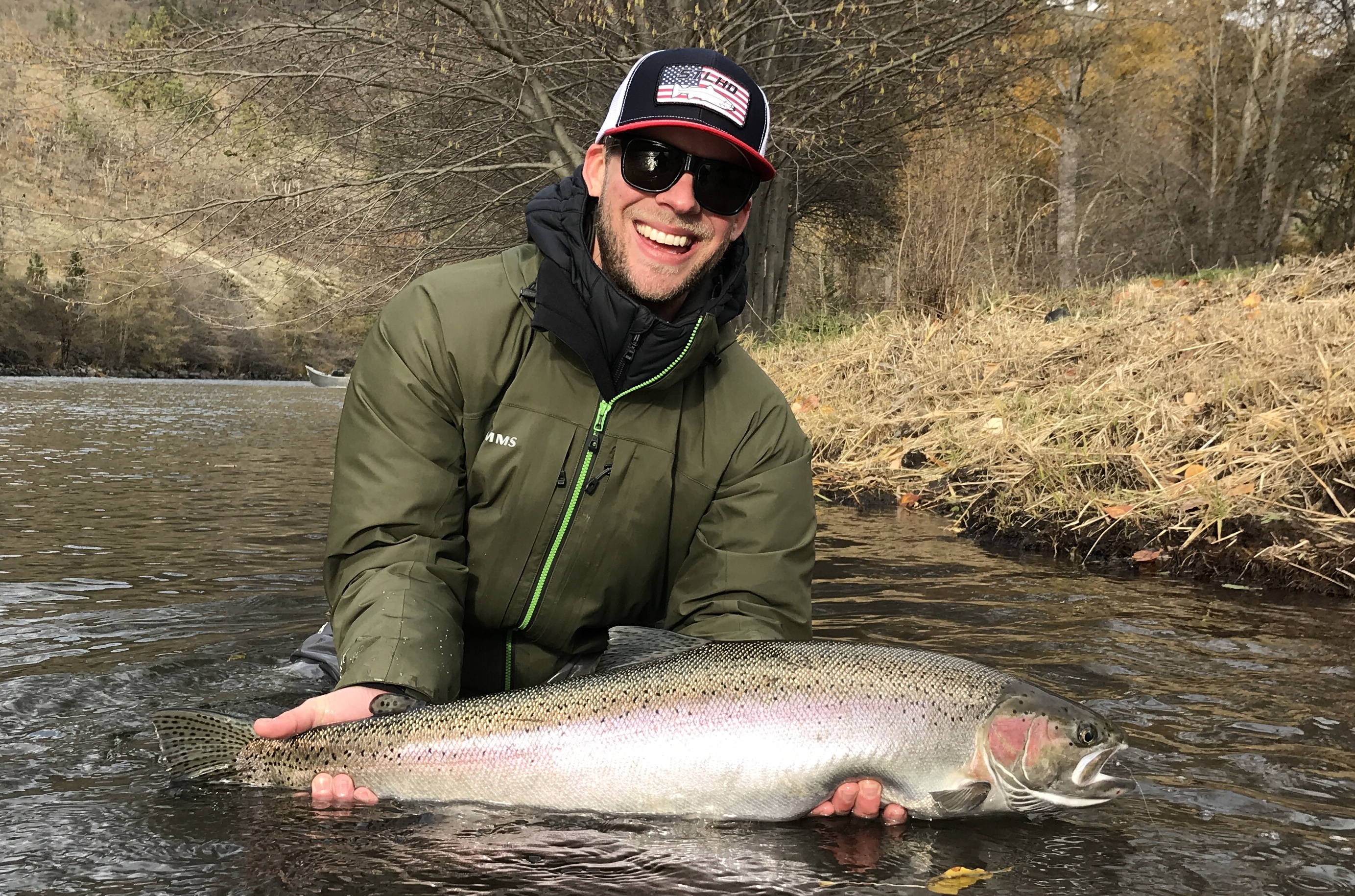 KLICKITAT RIVER WASHINGTON FLY FISHING –  GUIDE  
STEELHEAD OUTFITTERS PROVIDES GUIDED FLY FISHING TRIPS FOR SUMMER STEELHEAD ON WASHINGTON'S KLICKITAT RIVER.  The Klickitat River meets the Columbia just west of Lyle, WA.  Descending nearly a hundred miles and 6,000 feet from Mt. Adams the river picks up speed and volume from the many creeks and tributaries draining the east cascade range.  When freezing levels are above 9,000 feet the river has a very glacial hue, and water clarity suffers.  Home to Summer Steelhead, Spring and Fall Chinook, and Coho Salmon the Klickitat is a very popular fishery and anglers travel from abroad to fish there.  Fishing opens June 1st and is closed after the last day in November.  In 1986 the lower ten miles of the river was designated Wild and Scenic.  Steelhead Outfitters is one of four outfitters to be granted a United States Forest Service Permit for 2018 on the Klickitat which allows us to fish the Columbia River Gorge National Scenic Area (river mile 10.8 to RM 0) – this section is home to the best swing water on the river with broad runs, drops and pools as opposed the upper rivers more pocket water characteristics.
---
KLICKITAT GUIDED SUMMER STEELHEAD TRIPS, JUNE – NOVEMBER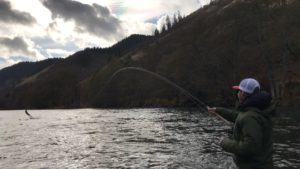 The Klickitat is one of the premier summer steelhead fisheries in the state of Washington. The experience is different than anything else we do.  The river runs North to South providing a unique fishing experience.  Surrounded by scrub oak and ponderosa pines the Klickitat runs though a narrow but steep gorge, and in the Fall the colors on display are breathtaking.   Sun angles vary from run to run as the river winds it way south but are very favorable the vast majority of the time, behind the fish or off the water altogether.  The river itself is smaller and more intimate than the neighboring rivers.  Despite it's relative size spey rods and long casts are still useful.  The fish themselves are primarily two salt fish, meaning they spend two season in the ocean and are larger than one salt fish which make up most summer steelhead streams in the Columbia River Basin.  Klickitat fish are big strong and agressive but not as numerous as other Columbia Basin rivers.  Being powerful is a pre-requisite for Klickitat steelhead, they have to navigate a nearly impassible canyon just to reach river mile three.  On the Klickitat we are playing for a higher quality steelhead.  Fish can be large, they can be un-landable…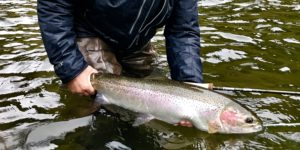 Fishing from a boat is allowed on the Klickitat and is the most popular way to fish it.  We navigate the river in a Koffler drift boat or a 16 foot Aire Cataraft.   We provide a spey rod swing fishing experience, it's in our DNA but we will fish from the boat between the runs.  Guided Klickitat River trips include fly rods, spey rods, flies, lunch and beverages.  Waders are available if needed for a rental fee.   Good accommodations  are available in nearby Hood River, White Salmon or The Dalles.   Not included is a WA fishing license with Columbia River Endorsement, WA sales tax, USFS fee, gratuity.
Pricing is $550 per day, 1 or 2 anglers.
BOOK A TRIP  (541) 400-0855
EMAIL:  info@steelheadoutfitters.com